Can I Put A Lock On My Bedroom Door?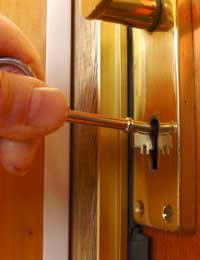 Q.My fiancee has recently rented a room in a house in Edinburgh and after moving in realised that none of the bedroom doors in the house have locks on them. She wanted to put a lock on the door but her landlord has refused saying that he doesn't want to damage to the doors(Even though she would get it professionally fitted at her own cost). Being in Scotland does she have any sort of right to have a lock put on the door as there are two other people living in the house and she doesn't feel comfortable or secure not having a lock on the door. I would very much appreciate any advice you could give on this matter. Thanks in advance. Saj
(Mr Sajid Mohammad, 9 September 2008)

A.
The first thing your fiancée needs to do is read her tenancy agreement. The terms of her rights and responsibilities to the property are specified in this agreement and may include information about changes to the house and/or fittings and furnishings. If your fiancée rented through an estate agent then it wouldn't hurt to check in with him or her about standard practices as well. However, if your fiancée has signed a tenancy agreement and it is shown that she is unable to make changes without permission then the terms of the agreement, and the landlord's refusal to allow the bedroom door lock, may well stand.
If your fiancée believes that her tenancy agreement does not prohibit the fitting of the lock then she might be able to make the case that her landlord prohibiting such locks is breaching her right to "quiet enjoyment" of the property as she is unable to feel safe and secure in it. She might also want to contact her insurance company to find out if her belongings are covered by a policy if she has no lock on the bedroom door. If they are not, or if she will be charged a higher premium for her contents cover, then she might want to mention this in her argument to the landlord as well.
It could be that the landlord does not realise the security concerns of your fiancée or that the landlord is worried about gaining access to the room as well. If your fiancée approaches the landlord with logical arguments and the offer of a copy of the key to the lock then it may be that a compromise is possible.
Unfortunately your fiancée and her landlord may not come to an agreement about the bedroom door locks. At this point it may be best for your fiancée to check with her local authority or a solicitor to find out her exact rights on this matter. If your fiancée has not yet signed an agreement then it may be better for her to leave the property and find a new room, particularly given that her landlord does not understand her safety concerns.
You might also like...
Hi Team, Greetings to you. One of my close friend is an expat and has a but to let mortgage and fixed term is coming to an end, he is unable to get new mortgage or remortgage based on his current circumstances. I've not owned any house/flat in UK, been living in UK for last 12 years.In the past my friend has helped me so I would like to help him to retain the property. I would like to know the options. At current property prices I can afford to buy part of the share in the property which will cover the outstanding mortgage on the property. Questions : 1. Will this be feasibile ? 2. If everything gets agreed in principle should the mortgage be taken as BTL ? 3. Are there lenders who will honour such deals ? 4. If I happen to get into this sharing, will it ever stop me getting another mortgage to own my own house/flat.? Any response is much appreciated. Thanks in advance. Regards Sampath
Sampath
- 30-Dec-15 @ 4:33 PM