Estate Agent versus Private Sale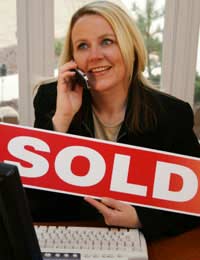 When it comes time to sell a home, most owners will either enlist the aid of an estate agent or decide to handle the sale on their own. On their own, of course, usually means with the aid of a private solicitor or other legal professional who understands all that is legally required of property sales. Neither of these options are inappropriate, but it is up to the property owner to decide which way they will handle the sale. For joint owners this often means that agreeing on a sale is the first step to determining how to sell their home.
Agreeing to Sell
Joint owners of a home are those who each have their name on a deed. When this is the case both owners must agree to a sale for it to legally go through. Unfortunately it is not always the case that joint owners agree on a sale, so if there are disagreements then one of the owners may need to go to county court to obtain an order that either forces the sale or postpones the sale. Generally such an order is down to a belief that the other owner is attempting to accept an inappropriate offer. For example, it may be believed that one owner is trying to accept an offer that is too low in order to sell the home quickly or that one owner is not accepting a very reasonable offer in the hope of delaying the sale. Only when both owners agree – or are legally required – to sell the home does the question of using an estate agent versus a private sale become pertinent.
Estate Agents
Home owners who choose to work with estate agents in the sale of their home usually do so in order to lighten their own load. Estate agents can take care of advertising the home, showing the home, taking care of offers from buyers as well as the paperwork required for the sale. In return, they charge a fee/commission from the sellers when the home is eventually sold.
Private Sales
Many of the home owners who choose to sell their homes privately do so to avoid paying the thousands of pounds that can be a typical fee from an estate agent. However, it should be remembered that though a fee may be saved a home owner who chooses to sell privately will need to be much more involved in the sales process. Placing ads and hosting showings, managing offers and paperwork and communicating with solicitors will all become the responsibility of the home owner who will at the same time need to liase with their mortgage provider and moving companies regarding the sale and eventual move from the home.
Deciding whether to work with an estate agent or to sell a home privately is entirely up to the home owner. For joint owners, agreeing to sell and how to sell are the first steps in the sales process. Often the choice comes down to the relative ease but fee of working with an estate agent or the hopes of saving money but devoting more time and energy by way of a private sale. Whichever way is chosen, owners should feel confident in their decisions and remain positive that their sale will be quick and painless. Good luck!
You might also like...