Monetary Considerations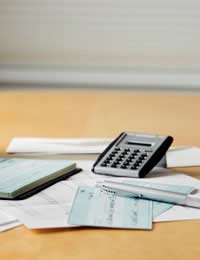 Flatmates are often virtual strangers who suddenly find themselves sharing large parts of their lives. One crucial aspect of any flatmate relationship is the monetary considerations that they share. Not only are flatmate's responsible for paying their rent on time, but also their utilities, the costs of cleaning and maintaining their home and chipping in for emergencies.
Paying Rent on Time
If both flatmate's have their names on a lease or other formal rental agreement then both of these flatmate's may be responsible for the full amount of rent due each week or month. This means that it is imperative that both flatmate's can trust each other to pay the amount of rent that each is responsible for each and every time it is due. It is also imperative that both flatmate's are able to produce their rent money on time, since paying rent late can put tenants into arrears and require them to pay late fees or interest on their payments. This obviously means that flatmate's will be further out of pocket, so both flatmate's should commit to paying on time as agreed at the start of their relationship.
Paying Utilities
Paying utility charges in a rental home can be tricky for flatmate's. To begin with, they may need to decide who will have their name on which bills. This means that ultimate only the named individual is responsible for paying these bills, so there must be house rules in place regarding who is responsible for paying what. In general, overarching utilities such as gas and electricity can be split down the middle since both flatmate's will use them, however things such as telephone charges or Internet connections may need to be separated if flatmate's do not use them equally. For these utilities, an itemised bill can be priceless for adding up what each flatmate owes. Again, flatmate's should also be committed to paying utilities on time as they can go into arrears or even have utilities turned off if they are not paid promptly.
Cleaning and Maintaining the Home
Flatmate's may differ slightly one what constitutes a clean, well-maintained home but in general keeping a supply of cleaning products in the house is not that difficult. The general costs of cleaning and maintaining a home, and possibly garden, are usually minimal so flatmate's may prefer to just maintain a kitty for these expenses from which each flatmate can take money in order to purchase needed supplies. If, however, it is decided that professional cleaners or gardeners is desired then these fees should be investigated, discussed and agreed by both flatmate's before anyone asks for money from someone else.
Chipping in for Emergencies
Finally, flatmate's should be aware that now and then they may encounter an emergency that requires them to chip in some cold, hard cash. For example, if furniture is ruined and replacements must be purchased, if an appliance breaks and repairs must be made before the landlord can take care of it or if there is something as disastrous as a flood or fire that destroys joint possessions then flatmate's may each need to put forward some money now whether or not they recoup it later. Though these are not regular charges or fees required of flatmate's, they still constitute monetary considerations that each should be aware of and understanding of if they do come to pass.
You might also like...