Managing Household Bills Between Two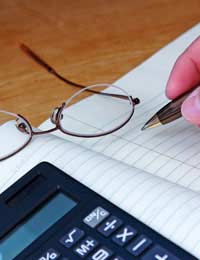 Household bills are a fact of life, but plans for paying them can be as unique as the people sharing accommodation. Some flatmates decide to split bills evenly, some prefer to itemise bills when possible and some may even split bills in a proportionate manner. How to pay the bills will also be unique to the flatmates. Some flatmates may designate someone to pay individual bills, some may open a household account and have the bills paid directly and still others may take turns paying each bill cycle. However, no matter how you choose to split and pay bills, working out the details right from the start is important so that there are no questions or concerns left lingering while sharing accommodation.
Splitting Bills
"Splitting bills" refers to the manner in which flatmates decides who pays for what. When two or more flatmates are involved then they need to work out a way for each to fairly contribute to utility bills. For some flatmates, dividing all bills in half is the most expedient way to deal with utility billing issues. For others, dividing bills proportionally (for example, 65% for the person who works or studies from home) seems fairer. These divisions can be particularly useful for bills such as the electric and water bills which are not itemised. However, bills that can be itemised such as the telephone and dial-up Internet bills, are often paid according to who used what. If you think this might be a good arrangement then check in with the utility billing services to see what can and can not be itemised for you. Again, the water bill and electric bill, as well as usually the gas bill, will simply provide information on the total amount used rather then when and what was used, so most flatmates will need to find a way to split these bills themselves.
Paying Bills
Once flatmates know who is responsible for utility bills they must work out how to pay bills. Utility billing services are usually very happy to discuss the different ways in which bills can be paid (often everything from cash at the post office to direct debit from an account), and often this information is provided on company websites and on the utility billing documents themselves. However, flatmates should remember that sometimes only the person named on the account can make enquires about the account (so, for example, only the person whose name is on the water bill can enquire about the company's records on the household water use) and the person named on the account is ultimately responsible for paying its bills. Flatmates may choose to make one person responsible for collecting and paying the bills, or they may decide to take turns on these tasks or set up a household bank account from which bills can be directly debited. Working with a utility billing service will allow you to know your options as well as the consequences for not paying bills on time.
Budgeting for Bills
Budgeting for bills can be tricky for new flatmates. Give yourself time to get through two or three billing cycles and it is likely that you will soon see a pattern emerging regarding the cost of the bills. If you find that your bills are too high for your household, call the utility company to find out about ways of saving money or plans that they may offer to reduce the cost of your bills.
Managing household bills between two people will take some organisation. From the outset decide how bills will be split and how bills will be paid and most of your headaches will be sorted. However, if you find that your bills are consistently higher than your budget then you should get in contact with the utility company immediately to find out your options.
You might also like...
I am sharing house which is private rental. I moved into property 1st,so all furniture etc is my own including deposit paid. How much should I charge as tax etc has now gone up. I was splitting everything 50 50 but had to replace and buy items when they moved in. Everything in house is bath room etc is shared. The person in question is a gamer,so is consistently inside playing on computer using electricity more
Raq
- 24-Apr-19 @ 12:49 PM
In a flat share with 4 tenants, 3 bedrooms and shared kitchen and bathroom how should the end of tenancy cleaning bill be split ie per room or per person?
1987n
- 18-Sep-15 @ 2:01 PM