Saving Money on Food Essentials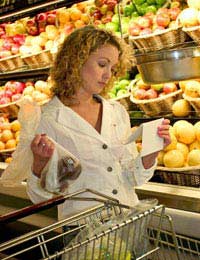 It may seem like there's no way to save money on food, after all, everyone has to eat. But just because food is a necessity doesn't mean you need to blow your budget every time you go shopping. Whether you're buying food for yourself or to share, there are a few ways to save money on groceries. Pre-planning recipes, shopping the perimeter of the store, buying in bulk and browsing the top and bottom shelves should all help to keep a little money in your pocket after food shopping.
Pre-Planning Recipes
If you plan your recipes before you go food shopping you'll know exactly what you need to buy and what becomes unnecessary treats. Pre-planning recipes will also let you combine ingredients so that you don't end up throwing away food that could otherwise be used in another meal. Once you decide on your recipes, make a list and stick to it so that you're not tempted to change your plans when something tempts you at the supermarket.
Shopping the Perimeter
Not everyone realises this, but foods around the edges of the store are often the healthiest and can be good value for money. Fresh fruits and vegetables, meats and fish and fresh baked breads are all usually stationed on the outer edges of the store. By building recipes around these foods not only will you be sure to meet your dietary needs, but you'll be able to purchase what you need for multiple meals at a time.
Buying In Bulk
When investing in pantry staples, consider buying in bulk as prices are usually slightly discounted if you buy a larger amount. Foods that store well, such as tinned fruits, pastas, baking ingredients and jars of sauces sometimes also go on discounts such as three for two or buy one get one free. Stocking up when you have a little extra money will help you get through the times you don't. Teaming up with a flatmate or friend to split bulk buys can also help you both save money and get ingredients in more manageable sizes.
Browsing Top and Bottom Shelves
Where an item is located in an aisle may also indicate its price. The most expensive items on a shelf are usually at eye level, so when you're running low on money browse the top and bottom shelves to see what kind of specials are on offer. The top and bottom shelves are also usually the most high, so bigger items that can be bought in bulk often reside here.
When you're not comfortable with cooking it can seem like you spend a lot of money on groceries. This may be because you need to try the same recipe a few times before getting the hang of it or because you tend to buy pre-packaged meals rather than ingredients. By pre-planning recipes, shopping the perimeter, buying in bulk and browsing the top and bottom shelves you should be able to spot a few specials to help keep your stomach full and more money in your pocket.
You might also like...