Questionnaire: Are You Financially Compatible With Your Flatmate?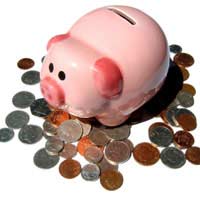 Living with a flatmate can be great fun, but even if you get on brilliantly it does not always mean that you will be financially compatible. You should start assessing your flatmate's finances at the interview stage so you can be sure you will not run into any problems.
Are they are a shopaholic? and you a saver? Will they want to spend all your rent down the pub on a Saturday night, or are they willing to work to a budget? These are all questions you need to be asking yourself.The questions below should help you decipher whether or not you and your flatmate will match financially. Simply answer A, B or C and check your answers below.
1. References
A) Your flatmate has glowing references from previous landlords and paid their rent and bills on time.
B) Your flatmate has never lived away from the family home before
C) Your flatmate is unable to provide any references
2. Their Work
A) They are in full-time employment and have references from their employer
B) They are working part-time but looking for something more permanent
C) They are not working at present

3. Paying The Bills
A) They are willing to open a joint account and pay the bills using direct debit
B) They do not want a joint account but will set up a direct debit from their account
C) They prefer to pay as and when the bills come in
4. Deposit
A) Your flatmate is willing to give you a small deposit to cover any damage they may cause
B) They are not willing to give a deposit but have signed a contract saying they will cover any damage
C) They do not want to commit to anything as they say it may not happen
5. Personalities
A) We have chatted about money and we seem to be of the same view and favour things such as logbooks, money diaries etc.
B) We have not really spoken about money but they seem trustworthy and I am confident we have similar views
C) From initial discussions we do not seem 100% financially compatible but they have assured me they can change.
If You Answered Mostly As
If you mainly answered A it sounds like you have a trustworthy flatmate who will be reliable when it comes to paying the bills, rent and any other household expenses. Off course you can never be 100% sure. One of the first things you should do when you move in together is set up a joint account and agree to only pay money into that account that will cover household bills. If you both pay the same amount in every month this should help you keep good record of who is paying what, you should also consider setting up a direct debit.
If You Answered Mostly Bs
It sounds like your potential flatmate has the ability to be a good financial companion but you should get some things checked out before they move in. If they have had no experience of paying bill you may have to offer some guidance. Also if they are reluctant to set up a joint account or a direct debit to pay bills find out why this is. It might be worth getting something in writing regarding what they agree to pay towards the bills and rent, this way if they fail to pay you have some written evidence of what they agreed to.
If You Answered Mostly Cs
It sounds like you could have a problem, if your new flatmate is unwilling to commit to any financial responsibilities you could find that you are forced to take control. If they are not working at the moment this should also ring alarm bells, unless they have a bulging bank account you should ask how they intend to pay the rent and other bills. It can be very stressful if you find that you are the one shouldering all the financial responsibility.
You are always going to be taking some form of gamble when you move in with a new flatmate. Even if they are a good friend you cannot always be sure of how they look after their money and how responsible they are. You should always make sure you get references from future housemates and make it clear what you expect of them financially, so you don't find yourself going into the red. Remember, a missed bill looks bad on you as well, not just them.
You might also like...