Party Policies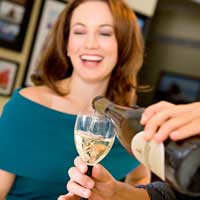 Sharing accommodation has many benefits, but one of the biggest drawbacks to sharing a home is that one individual can often feel like being social when the other does not. This can be especially frustrating if one flatmate wants to throw a party while the other isn't interested in hosting a large gathering. To make sure that neither flatmate feels insignificant or ignored, it is best to set a few party policies as basic house rules when living together begins. Defining parties, setting some common sense rules and agreeing on how to handle disagreements should all help party policies evolve with few problems. Once rules regarding parties are set, flatmate's might even delight in breaking them now and then.
Defining Parties
The word "party" can conjure up all kind of images, but there are really only two general types of parties that flatmate's may be hosting. Formal parties may not require a top hat and tails, but these are the types of parties in which there is a set guest list and a purpose for the party, for example a dinner party or birthday brunch. Informal parties, however, very often do not have a set guest list and are thrown just for the fun of it. Usually informal parties have more chance of being disruptive simply because they have a more spontaneous nature and the number of guests can get out of control, so these are generally the type that may cause friction between flatmate's.
Common Sense Rules
Party policies do not need to be elaborate or complicated, and in fact the more common sense the rules the more likely both flatmate's will be to remember them and follow them. For example, common sense would dictate that if one flatmate were interested in hosting a party then (s)he would communicate this to the other flatmate. Similarly, both flatmate's should agree on what areas (for example, bedrooms) are out of bounds to party guests and which possessions (for example, personal computers) should not be handled by party guests. Usually after a few parties these rules will become obvious and second nature to all involved.
Agreeing on Disagreements
Even when flatmate's do make solid policies regarding parties it is unlikely that they will escape all disagreements about the subject. Arguments can and probably will occur, so flatmate's should remember to fight fair when possible and stay focused on only the matters at hand. Bringing up past wrongs won't help move the current disagreement forward and in fact might move it further away from reconciliation. Though arguments tend to have natural ends, flatmate's should avoid letting them drag out and instead strive to close the matter before anyone goes to bed angry.
Breaking the Rules
As with anything, house rules, policies regarding parties are probably made to be broken every now and then. However it should always be the flatmate who is not hosting a party who reserves the right to wave any or all rules.
Throwing a party can be great fun, but it may not always be a laugh for a flatmate who wasn't aware that it was occurring or perhaps even specifically requested some quiet time. By setting party policies early, flatmate's can avoid such an unfortunate circumstance.
You might also like...