Unofficial Flatmates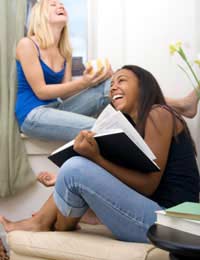 Flatmate's often invite friends to visit and stay over and for the most part these guests are par for the course of sharing accommodation. But sometimes guests don't ever seem to leave and become unofficial flatmate's. Whether these are romantic partners or just good friends, allowing others to virtually move in is not only disrespectful to other flatmate's but may be in breach of rental agreements as well.
Legal Standing of Flatmate's
When flatmate's live together and have each signed a rental agreement then they are known as joint tenants. This means that each flatmate's has the same rights and responsibilities when it comes to living in the shared home. If a flatmate does not have his or her name on a rental agreement then the arrangement is informal. This is the case when an individual sublets from someone, effectively taking over part or all of a rental agreement without a formal agreement of their own. This is also the case when an unofficial flatmate all but moves in. When this new individual brings possessions, begins to spend the night and is generally around as much as the other flatmate's then it could be argued that an unofficial and informal tenancy has begun.
Breaching Rental Agreements
Joint tenants who are concerned about an unofficial flatmate should read the terms and conditions of their rental agreements carefully. It may be that there are limits to the number of flatmate's able to live in a home or that all tenants must be registered and recorded with a certain authority. It may also be that a tenant who violates these terms is liable for consequences as serious as being asked to vacate the premises.
Allowing Unofficial Flatmate's to Stay
If an unofficial flatmate is to be allowed to stay, discussing the situation with all flatmate's is advisable. Not only should all flatmate's have the chance to approve or oppose the situation, but it may be that new living arrangements must be worked out as well. For example, will the unofficial flatmate be paying rent or utilities? If so, in what proportion? Will this person be asked to contribute to cleaning and chores in the home? If so, which tasks and how often? Will there be any aspects of the home life that this person will not be allowed to participate in? If so, which aspects and why not? And who will notify the new person? Finally, and perhaps most importantly, will agreeing to allow the new person to stay make him or her an informal flatmate? If so, does this confer any rights and responsibilities with which the others are uncomfortable? Answers to all of these questions should be worked out by flatmate's before anything is said to the person in question.
Unofficial flatmate's are always in a precarious situation, and they usually put official, legal flatmate's in a precarious situation as well. While it is best to avoid such circumstances, sometimes they are unavoidable. Recognising an unofficial flatmate for what (s)he is and dealing with the situation head-on makes the most sense to ensure that everyone involved gets the living situation that they deserve.
You might also like...