When Flatmates' Friends Don't Get Along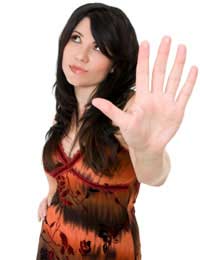 Sharing an accommodation means that flatmates will share certain parts of their lives, and friends and social lives will be among those shared subjects. In fact, unless one of you is a hermit there is a great likelihood that not only will each of you meet the other's friends time and again, but your friends will meet each other and socialise on occasion. While some friendships may develop from this new mix, unfortunately some rivalries and enemies may develop as well. When flatmates' friends don't get along there is not a great deal that the flatmates can do to force the situation, aside from limiting time together, refraining from gossiping and being respectful of the differences.
Limiting Time Together
If flatmates' friends very obviously don't get a long then it is in no one's best interest to force them to be together. Instead, flatmates can work together to limit the time that these friends are in the same place. For example, recognising that there is a problem and agreeing to tell the other before inviting over one of the friends may be a good idea. It might also be a good idea to set up basic ground rules about parties, for example that on occasions such as birthdays it is the birthday boy or girl whose friends take precedence. Though strict house rules will not likely work, if each flatmate remembers to show the other some respect and consideration then it is not likely that the friends who don't get along will need to spend any more time together than can be avoided.
Refraining from Gossiping
What flatmates do when they are together – show respect and consideration – should be continued when they are apart. Refraining from gossiping about the others' friends and how much the individual's own friend does not like the flatmate's friend (and why) is always a good move. Gossip has a way of getting back to the people being discussed, but more than that it is unnecessary. There is no reason to inflame the situation with incessant discussion. Instead, when the topic comes up flatmates can quickly and easily end by saying something along the lines of "I know you don't get along and there's no reason that you need to, but we aren't going to talk about this all night." Changing the subject quickly, whether it be to the match on tv or to see who wants to go out dancing, will also help cut off these conversations before they can begin.
Being Respectful of the Differences
Not only should flatmates refrain from gossiping when they are apart and with their own friends, but they should try to go a little further and respect the differences between each others friends as well. For example, it could be very easy for a flatmates' rugby buddies to have little to say (and therefore feel that they don't get along with) another flatmates' drama friends, but if each flatmate speaks positively about the others friends then the differences may not seem so great. If there is truly nothing positive to say, then following the old adage "If you don't have anything nice to say then don't say anything at all" might be the safest bet all around.
You might also like...