Quiet Hours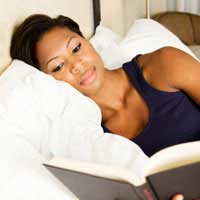 A common complaint that is often heard from flatmates is that they don't get enough quiet time in their own home. For people who need quiet time to relax, work or study, or of course get some good sleep this can be extremely frustrating. One way to combat the noise and make sure that everyone gets enough quiet time is to set some house rules regarding quiet time. Defining quiet time, using common sense to set the rules and agreeing on how to handle any problems with the rules are all great ways to make sure that each flatmate gets a chance to tell his or her side of the story and have some input into the kind of home life that (s)he would like. Then, when the rules are established, flatmates can determine if any of them were made to be broken.
Defining Quiet Time
People always have naturally differing views on what is quiet time. For some people, quiet time is only real if they can hear a pin drop. For others, chatting on the phone with quiet background music is quiet time. For still others, playing a computer game while watching the television while talking to someone in the next room is quiet time. Flatmates will need to define precisely what they consider quiet time in order for each to be able to follow any rules set on this topic. While it would be impossible to draw up a comprehensive list of what is or is not acceptable during quiet time, a general agreement that from 11pm to 7am there should be no band practice shouldn't be too hard to follow.
Using Common Sense
Using common sense sounds simple - until it comes time to actually use it. In regards to quiet hours, common sense should indicate that after midnight on a weekday most people will need to get some sleep. Similarly, common sense will also indicate that on weekend nights this time might be pushed back a little since most people can sleep late the next morning. However, there may be reasons that this is untrue of a particular household or flatmate, so it is best to sit down and discuss typical daily schedules and responsibilities before setting any quiet time rules.
Handling Problems
Even when flatmates do make sound rules regarding quiet time it is unlikely that they will escape all disagreements about the subject. Arguments can and probably will occur, so flatmates should remember to fight fair when possible and stay focused on only the matters at hand. Bringing up past wrongs or hurts won't help move the current disagreement forward and in fact might move it further away from reconciliation. Though arguments tend to have natural ends, flatmates should avoid letting them drag out and instead strive to close the matter before anyone goes to bed angry.
Breaking the Rules
As with anything, house rules regarding quiet time are probably made to be broken every now and then. For example, celebrations for birthdays, finishing exams or promotions at work may all require a little more noise than a typical Tuesday evening. Flatmates should be aware of this and strive to remain flexible when certain circumstances arise.
You might also like...