Questionnaire: What House Rules Are Acceptable?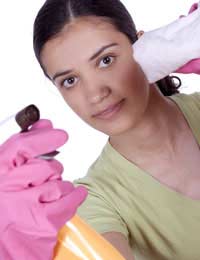 What is considered acceptable when sharing a house can change radically from one person to the next. Everyone has their own standards and it is up to you to determine what you find acceptable.
If you own the house, to some extent what you say goes. If you are in a joint houseshare you are going to have to be a bit more diplomatic and sit down and work out together what is acceptable.
It is a good idea to compile a list before your housemate moves in, so you can solve any possible problems beforehand.
Rules Around Cleanliness
A)I want my housemate to clean and wash-up after themselves every day, as well as doing weekly hoovering, dusting and tidying.
B)I would like them to clean up after themselves and for us to rotate chores such as hovering and dusting on a weekly basis.
C)I would only want them to tidy the house if one of us has a guest staying.
How To Arrange Your Finances
A)I would like to see their bank details so I know they can afford the rent. I also want them to give me the bill and rent money two weeks prior to it being paid.
B)I would like to set up a joint account and for us to sit down on the day the bills come in and divide them.
C)I would request that we all have a designated day we pay one person our rent and they pay the bills.
When Are Visitors Allowed?
A)I am strictly against overnight guests, all guests must be gone by 11pm.
B)I would like my flatmate to ask permission first if they are going to have overnight guests.
C)I am happy for guests to stay overnight and would feel embarrassed complaining if my housemate had a party or guests stay.
Is What's Theirs Yours?
A)I want to label everything in the kitchen, so nobody touches the other's food.
B)As a general rule I would not want my housemates helping themselves to my food.
C)I trust that my housemate will not touch my food and if they do I wouldn't mind too much.
How Much Notice Should I Ask For When Moving Out?
A)My housemate should tell me as soon as they look for somewhere else to live and give two months notice.
B)My housemate can give short notice but must stay until I find somebody to replace them.
C)I would require no notice and I would just have to hope I find somebody to take their place.
Mostly A - Don't go overboard
You have a solid idea of what your flatmate can and can't do. If you own the property and will be living there they can't really argue with you. But you may want to think about relaxing some of your rules.
It would be unacceptable to ask for your flatmate's bank details, as this would invade their privacy. It might also be unreasonable to ask them to do excessive cleaning, as they may not have time. Labelling each other's food may also lead to tension in the house and is not the best way to start your friendship.
Mostly B- The right balance
You have the right balance; you know how to share and are relaxed about what your flatmate is allowed to do. Communication is the key to any houseshare and it seems as long as your housemate keeps you informed of their plans you are happy.
Setting up a joint account is a good idea, and if the house starts to look untidy you can communicate to each other that you both need to do an extra bit of work.
Mostly C- The light touch
You could benefit from having more rules around the house. Your easygoingness could result in disaster if both of you behave in the same way.
You should look at forming a weekly rota for the tidying and preparing in advance for when bills and rent should get paid, or you could forget about them. You should not feel embarrassed about voicing your concerns to your flatmate and you don't want to be seen as a pushover or it could make your home life a misery.
Lots of housemates will make rules and then forget about them in a couple of weeks. Once you have decided on yours, put them somewhere everyone in the house will see, such as the kitchen fridge or on a notice board. It is also important that if somebody breaks a rule you remind them gently that they are not following the rules as this will lead to a happier environment for all.
You might also like...