Questionnaire: Why Do You Want to Share Accommodation?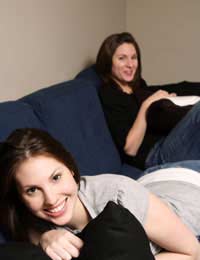 In theory, sharing a flat or house with your best friend, or even a stranger might seem like a great idea, but in reality it could be a disaster waiting to happen if you are not doing it for the right reasons. So before you pack your bags and start house hunting you might want to take a step back and think about why it is you want to house share.
1. Your Reasons
A) I want to improve my social life
B) I'm tired of living by myself and would like some company
C) I dread the idea of sharing my space, but this is the only way I can afford to move out of the family home
2. Your Personality
A) I am an outgoing person who enjoys socialising with others
B) I enjoy my own company but also that of others
C) I am a very independent person and I am not looking to make friends with a potential housemate
3. Who You Will Live With
A) I am planning on interviewing for a roommate
B) I am going to live with a friend
C) I am letting my friend move in because they have fallen on hard times
4. Your Lifestyle
A) I am considerate of others and quite relaxed about others behaviour
B) I am willing to offer some give and take in order to house share
C) I don't want my daily routine to change because of a housemate
5. Your Finances
A) I am quite willing to equally divide the bills, even if one person uses electrical equipment and the central heating a bit more
B) I am happy to split the bills within reason
C) I would want a flatmate to use just as much or as little electrical appliances as I do, so we both get value for money
Mostly A - You already have your bags packed
You are the type of person that thrives on another's company and house sharing sounds like it suits you down to the ground. You sound like you have your head screwed on and are clued up about what makes a good housemate and what potential sacrifices you might have to make.
It's important to not rush into anything though and you should try to get to know your new roommate before moving in.
Even the most compatible of personalities can find it difficult to share their space. If it is an improved social life you seek, then make sure anyone you move in with is on a similar wavelength.
The most important thing with any relationship is communication, make sure you both set out your boundaries and a set of ground rules before you sign up, this way you both know where you stand.
Mostly B – Your bags are half packed
If you answered mostly B you have given moving in with someone some thought, but there still might be some issues that are holding you back.
You sound like you have a level head and would be a good housemate to live with. The wrong type of housemate could spell trouble, so take your time and do your research to make sure that you are compatible with your new housemate.
If you have been living by yourself for a while you might need to adjust a few of your habits so you are more accommodating to a potential housemate.
Mostly C - A case of can't share, won't share
It sounds like you really don't want to house share and it would not suit your personality to do so. If you are only moving in with someone because you need the money or you are helping out a friend it is likely to end in disaster.
If the only reason you want to house share is because of the money it might be worth looking at other ways you can cut down your expenditure. You could move somewhere smaller or perhaps a different area. If you do decide to house share you might have to change your ways and be a bit more tolerant towards others, or find a flatmate that will not be home a lot.
House or flat sharing is not for everybody and you will have to make sacrifices. All housemates will argue over things such as the television remote and who puts the rubbish out, but overall most people view housesharing as an enjoyable experience.
You could potentially meet your new best friend but if you go into house sharing with a negative attitude you will find it difficult to make it work.
You might also like...