Seeking Legal Advice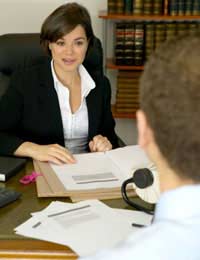 Though sharing accommodation is a fact of life for many people, just because it is a common arrangement does not mean that it is without its irritations. Unfortunately, irritations can come quite close to problems and if arguments or other concerns aren't resolved quickly enough then there is always the chance that they can escalate. Sometimes individuals who share accommodation feel that they need to get outside help involved, whether it is through mediation or legal advice. Though such avenues usually cost time, energy and money, they may be the only way that an individual sees to move forward.
Legal Concerns
When two tenants are each listed on a lease or rental agreement then they are known as joint tenants. Similarly, when two owners are each listed on a house deed then they are known as joint owners. By and large, joint tenants and joint owners share the same rights and responsibilities when it comes to their home because they each have legal standing. Along with the right to live in the home, legal standing means that joint tenants or owners will have certain responsibilities to the home as well. Joint tenants who have each signed a rental agreement are then both responsible for the terms of that agreement. Usually these terms involve paying the required rent and paying it on time, keeping the home to a certain standard and following any other lifestyle terms (for example, quiet hours, refraining from cooking odorous foods, etc.) that are listed. For joint owners the responsibilities may be similar, for example to pay the required mortgage payments on time and to follow the rules and guidelines of the local authorities. These and any other legal requirements of homeowners will likely be explained to the joint owners by the solicitor who handles the purchase of their home. Often when a joint tenant or owner feels that (s)he needs mediation or legal advice it is because the other tenant or owner has shirked some of these responsibilities.
Mediation
Mediation is a process by which an outside influence, usually a trained mediator, helps individuals walk through their disagreements and compromise on solutions. Usually mediation is seen as a last resort before the individuals involve take their case to solicitors and/or the courts. If it is believed that professional help is needed then visiting the UK Mediation Directory (www.interdial.org.uk) will help flatmates determine which services they may need to help end their disputes. Sometimes solicitors may act as mediators, but this does not mean that the matter is going to court. Individuals should be very clear about what they require of a mediator, what they are seeking from the mediation and how they would like to see the matter close. Without knowing these things, mediation could turn into a waste of time and money for all parties involved.
Legal Advice
If mediation does not work or the individuals involved do not care to try mediation then seeking legal advice remains an option. Private solicitors can cost a great deal of money if the matter is complex, but there are ways to access experienced legal professionals without a high price tag. FreeLawyer (www.freelawyer.co.uk) offers online help from virtual lawyers, however it is generally recommended that individuals meet their legal advisors face to face. Citizens Advice (www.citizensadvice.org.uk) can generally put individuals in contact with solicitors for little or no money. A little research may also turn up free or low cost legal advice in your local area. Good luck!
You might also like...