Considerations for Buying with a Group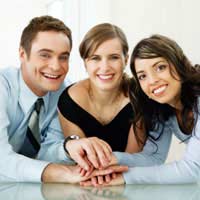 Sky high property prices mean that very often single people feel unable to get themselves on the property ladder. One way around these high prices is to combine interests with others, be they friends or relatives, in order to buy a property as a group. Though this is not the most common means of purchasing a property, it is an available option for qualified candidates. In general up to five people may group together to purchase a home.
Advantages of Buying with a Group
Buying a property with a group has several main advantages. First of all you can all combine your money to come up with a bigger deposit than any of you could have otherwise. You can also combine your incomes to get a larger mortgage than you would have on your own while at the same time splitting the costs of a monthly mortgage, upkeep and maintenance of the home and utility bills. In effect you are multiplying your purchasing power but dividing your monthly outgoings. This means that you may be able to afford your first home, a larger home or a home in a better area than you could have without a group.
Disadvantages of Buying with a Group
However there are some disadvantages to buying a home with a group as well. To begin with you will likely need to pay extra fees up front due the extra legal costs of working through joint ownership documents. Financial arrangements may become complex, particularly if one member of the group is paying more than the others, and there is always the worry that if the group breaks up, one member f the group becomes injured or ill, or one member of the group passes away that the others will no longer be able to afford to stay in the home. Disagreements over home issues also arise between groups of people who have bought a home together but have not lived together previously.
Protecting Yourself
No matter how friendly you are with others in a group, you must protect yourself when it comes to your investment in a property the way you would in any other business arrangement. Remember, each individual is responsible for 100% of the mortgage of which (s)he is a part, so you will not want to be the one left having to pay if others do not uphold their part of the agreement. Insurance can help cover you in the event that another group member is unable to pay his or her share of the mortgage. You'll also want to work with a solicitor to ensure that you understand your own share in the property. Generally groups who purchase homes together do so as "tenancy in common" in which each owns a particular share of the property. You'll want to make sure that these shares are clearly delineated in a declaration of trust (or trust deed) and that each individual keeps appropriate records of what (s)he paid into the property.
Further Information
The best source of information on your specific situation is to see a solicitor. An experienced legal professional will be able to let you know what to expect when buying a home as a part of a group, what each member of the group will need to do or provide to make the process run smoothly, and how you can each protect yourselves fairly should something go awry. Visit the Law Society (www.lawsociety.org.uk) for more information on finding a solicitor in your area.
You might also like...