Buying a Home With Friends: a Case Study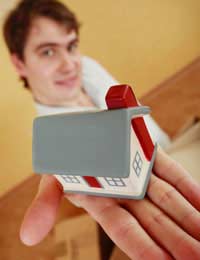 Kevin, Christopher and Jeffrey all worked as young professionals and lived in Leeds, their wages ranged from £24k to £26k. They had been renting a shared flat together for two years.
If they were to buy a property separately the most somebody on a wage of 24k would be able to borrow was around £121,000.
They decided they wanted to carry on living together for the foreseeable future but they would struggle to buy a property on just one of their wages. They decided they could afford to buy a flat separately so they looked at buying a property together.
What They Could Afford
The three friends went to visit a mortgage broker to find out how much they will be able to borrow if they combine their wages, both Kevin and Christopher were on £24k but Jeffrey was on £26k. The mortgage broker checked their credit rating to looked at their past credit history. Kevin had missed a few payments on a loan in the past so his credit rating was not as good as his friends, this lowered the amount they could lend.
The advisor told them they could lend up to £300,000 but they would need at least a 10% deposit between them. Both Christopher and Kevin had money saved up for a deposit but Jeffrey did not. Jeffrey spoke to his parents and they decided to lend him the money and he agreed to pay the money back on a monthly basis.
Finding a Property
All three friends went house hunting together. They found there were a lot of three bedroom properties in Leeds they could afford to buy for the amount they could lend. It took them quite a long time to find a suitable property because not all of the houses they looked at had three decent sized bedrooms. They finally found a property they could all agree on and went back to the mortgage broker to discuss the mortgage.
Getting a Mortgage
The mortgage broker was able to draw them up an agreement in principle which allowed them to see exactly how much they were able to borrow and what their monthly payments would be. They decided to go for the house and exchange contracts. They all agreed to borrow the same amount of money each so they would all have an equal share in the property. They found their repayments were more than their rent but they had the reassurance that their money was being used as an investment.
A Few Years Down the Line
Four years after they moved in together Kevin decided he wanted to move in with his girlfriend. The other two decided they wanted to move as well so they decided to put the house up for sale.
In the three years that they lived in the property house prices had not increased very much, they had only risen by around 10% over the three years. They bought the property for £250,000 and sold it for £262,000. This meant they had all made a profit of £8,000, they also got their deposits back.
Christopher and Jeffrey decided to use their deposits to go towards buying a flat each and found they could afford to buy a flat now that they had their £8,000 deposits.
You might also like...