Flatmates and Disputes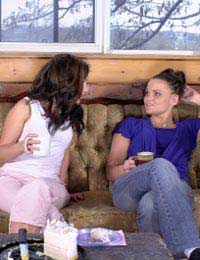 Regardless of how well flatmates usually get on there will no doubt come a time when they reach a confrontation or dispute. It is almost virtually unheard of that flatmates could live together for any length of time without disagreeing over something - whether it be a small matter like who used up the last of the dish liquid or a larger matter like one flatmate letting friends use the other flatmate's electronics. When a disagreement or dispute does occur, flatmates would do well to remain calm, discuss the situation in private, try to agree to a course of action for the future or seek help via mediation.
Remaining Calm
There's no point in screaming at each other - when flatmates are worked up to the point of rage it means that no one is in the position to think rationally or make decisions but it does mean that they are in the mood to assign blame. This is not necessarily a bad thing since there may well be blame to be taken, but when it's being yelled at someone they are not necessarily going to be in the best frame of mind to accept responsibility, apologise and move on. Instead, try to remain calm regarding the incident in question and see if you can't move somewhere private to hold your discussion.
Discussing the Situation in Private
Discussing the situation in private is often easier said than done. If there are guests visiting or paper thin walls separating one flat from another then there is a good chance that passionate discussions will be overheard by others. To counteract this audience, consider scheduling your discussion for a time in the future when both flatmates will be able to stay calm and meet in private. If, however, remaining private may increase the chances that one or more flatmates feels that (s)he can carry on without limits then opting for a public venue such as a restaurant or coffee shop may be a better plan. Just don't agree to meet in a pub - alcohol will likely hinder rather than help any discussions.
Agreeing to a Course of Action
It's all very good to assign, and accept, blame for a particular situation but this really means very little if there are no decisions made for the future. During the course of any discussions flatmates should spend as much time examining how to proceed in the future as what went wrong in the past. For example, if the cause of the dispute was one flatmate's excessive noise, then it may be helpful to agree to a few house rules regarding quiet time to ensure that the same issue does not come up again in the near future. Remember though, house rules only work if both parties agree to them. If coming to a compromise seems impossible then flatmates may want to consider seeking help via mediation.
Seeking Help Via Mediation
Mediation should probably be held as a last resort in regards to flatmate disputes, both because it may well require both flatmates to spend money and because waiting for an appointment may drag out the dispute. However, if it is believed that professional help is needed then contacting a solicitor or visiting the UK Mediation Directory (www.interdial.org.uk) will help flatmates determine which services they may need to help end their disputes.
You might also like...
Many things can be quickly and amicably resolved between flatmates. What you should do early on in the tenancy is to agree parameters for discussions that can stop them escalating into arguments - a set of rules, if you like. This won't always work, but it will make both of you think twice. Where the situation is bad and can't easily be resolved, one of the flatmates (not the one who signed the lease!) might need to consider moving once a replacement has been found. That's far from ideal, but sometimes it's the only way.
Angela
- 14-Jun-12 @ 1:41 PM