Checking References of Potential Flatmates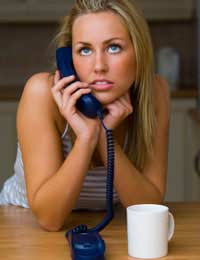 Once you've interviewed a short list of potential candidates you're ready to pick your next flatmate, right? Wrong. Though you are almost finished once you've written your ad, posted it appropriately, fielded contacts from all interested parties and called the best candidates in for a chat you've still got one very important step left: checking the references of potential flatmates.
Get In Touch
Some potential flatmates may bring a neatly typed letter of reference from a past flatmate. This is not good enough. Neither is receiving a form email reference because, unfortunately, written communication can easily be faked. There's absolutely no way of knowing if a letter was typed by the candidate him or herself or if (s)he is actually the owner of a particular email address. Instead, insist that you need the telephone number of the reference as well as times that it is acceptable to call him or her. Only by speaking with someone can you truly put to rest doubts about a given reference.
Verify Identity
Sadly, it's just as easy for someone to get their sister or friend to stand in as a reference as it is to fake a written communication. Short of running a background check there is little that you can do if someone tells you they are who they say they are, but at least you can rest easy knowing that you've done all in your power to speak with a referee. When you do get this person on the phone, be sure to verify his or her identity by asking questions that relate to the information the candidate gave you. Be sure to confirm the dates of their living together, where they lived (with an address, if possible), how many other people lived with them and why their living arrangement came to an end. If any of this information does not match up to the candidates' story it should be a strong warning sign that something is amiss.
Ask Specific Questions
If you are confident that you are speaking to a real referee then take advantage of the opportunity and ask specific questions. If you are looking for a quiet flatmate, ask how well the candidate was about observing quiet hours. If you are looking for a social flatmate, ask if the candidate ever minded guests or parties in the home. If you are looking for a candidate who will help keep the home neat, ask if the candidate was good about cleanliness and hygiene. In this situation there really is no such thing as a dumb question, unless it's the question you want answered but don't ask.
Ask About What's Missing
Just as important as asking about what a candidate did do is asking about what (s)he didn't do while living with the referee. It can be hard to elicit this type of information, but a general question such as "Was there anything that Bob didn't do that you felt he should have?" will help garner more information about a candidate's habits. If it seems that a candidate is too good to be true, say so. The reaction to this statement may be more telling than any answer to your questions so far.
When you are about to invite someone to become a new flatmate it's important to feel comfortable with your decision. Checking references of potential flatmates is one way put your mind to rest that you've done as much research as possible.
You might also like...