Creating The Right Impression At Interview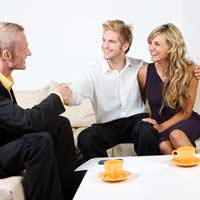 Being interviewed by someone who is looking for a new flatmate can seem a bit daunting. Unlike a job interview where you'll have a basic idea of the types of questions you'll be asked as well as being able to find out quite a bit of information about the company beforehand - neither of these is quite as clear cut when it comes to being interviewed about becoming somebody's new flatmate. However, it's also important to realise that just as the person needs to feel as confident as they can be that they've selected the right person to share with so you, too, will want to be equally as sure that, if selected, you think you would enjoy sharing with the person who is letting the room out.
First Impressions Count
As with a job interview, if you're being interviewed as a potential flatmate, it's important that you create a good first impression and this is done before you've even had a chance to speak to them. From the clothes you are wearing to how you greet the person, that will be the first, and perhaps most lasting impression they'll have of you. Whether we admit to it or not, most of us will usually form some kind of initial impression of another person from their appearance and general demeanour (i.e. visual cues). That's not to say, an opinion of somebody can't change over time but we're usually drawn to somebody to get to know them better initially because there's something about them we like. Conversely, if we tend to keep our distance from somebody, this is usually because there's something about them we don't like - even if we've never spoken to them. Therefore, when you're going to be interviewed as a possible flatmate, make sure you dress appropriately, make good, friendly eye contact, offer a handshake and a friendly greeting. It doesn't mean you need to dress formally as that might come across a little too over the top but do dress appropriately - in other words, look presentable and tidy.
Arriving On Time
There's a strong likelihood that the person doing the interviewing may have set up several interviews the same day and they'll have allocated a set amount of time for each person so make sure that you're on time as they'll have several questions to ask you to get to know more about you as a person and, equally, you'll want to do the same.
Be Positive, Be Polite But Above All…Be Yourself!
Remember, this isn't a job interview. This is all about finding out whether a particular type of accommodation set up is suitable for you and whether or not you could share a common living space with a particular person. Therefore, whilst you'll want to come across as friendly and polite, the most important thing is to be yourself. If you try to come across as somebody you're not, not only will people often see through you but, more importantly, if you're subsequently chosen to move in and your whole lifestyle and manner is entirely at odds with how you portrayed yourself at the interview, you'll soon find that your sharing arrangements may go horribly wrong. A good example of this might be where you tell the interviewer that you do most of your socialising down at the pub or through sports or other activities but then you end up moving in and having lots of friends around every night and, worse still, after you've been to the pub!
Get To Know The Interviewer Too
Although you're being interviewed, it's also important that you try to find out as much as you can about the person you may end up sharing with. So, try to engage them in conversation about themselves too. It's a two-way process and when it comes to sharing accommodation, any 'interview' should end up becoming more of a two-way informal relaxed conversation as opposed to it being strictly a question and answer session.
Each side will want to ask particular questions of the other and you'll both need to discuss the fundamentals of a flatshare such as the rental agreement, what costs will be shared, what the general 'rules' or 'guidelines' are when it comes to inviting people around or having friends to stay over but, ultimately, it should be about two people trying to work out, in a relatively short space of time, whether they could share each other's living space in an accommodation arrangement.
Finally, never take it personally if you get told later that they've offered the room to somebody else. This doesn't mean there were others who were friendlier or 'better' than you. The chances are that if you have been told that you the room's been offered to somebody else, you probably wouldn't have got on quite as well with the person as you might have thought and it simply means that you'll continue your search whereby you'll eventually discover another person with whom you'll 'click' even better.
You might also like...