Considerations for Buying with a Sibling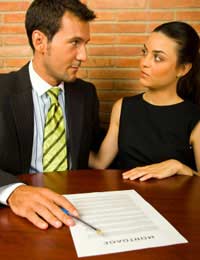 When faced with sky-high property prices many single people worry that they'll never be able to own their own home. For some, becoming joint owners of a property is the answer. Buying with a sibling has become a popular method for some individuals to get on the property ladder. If you are thinking about buying with a sibling, be sure to consider the many ways in which you relationship may change and be prepared to turn your family ties into a more formal business arrangement.
Economic Considerations
Economically, buying with a sibling may seem like a great idea. To begin with you can combine your money to come up with a bigger deposit than either of you would have otherwise. You can also combine your incomes to get a larger mortgage while at the same time splitting the costs of a monthly mortgage, upkeep and maintenance of the home and utility bills. This means that you may be able to afford your first home, a larger home or a home in a better area than you could have without a partner. However, there may be some downsides as well. Financial arrangements may become complex, particularly if one sibling is paying in more than the other, and there is always the worry that if one sibling wants to leave, one sibling becomes injured or ill, or one sibling passes away that the other will no longer be able to afford to stay in the home.
Downplaying Disadvantages
To avoid any potentially negative consequences of buying a home with a sibling try to address many of the possible disadvantages before you purchase a property. Ideally you'll want to set up a formal contract that discusses the percent or proportionate amount of each individual's stake in the property, how the costs of the mortgage, upkeep and maintenance will be divided, when utilities and mortgage payments will be due and what will happen if one individual is unable to cover his or her bills. You might also want to have financial and credit background checks run on both yourself and your sibling so that you both understand each other's financial situations. Consider also formalising your relationship as joint owners so that there is no confusion later on. This may mean higher legal costs at the start due to greater amounts of paperwork involved, but it may also mean savings later on if a disagreement does occur and you both have legal documents to refer back to regarding your rights and responsibilities. Being prepared for such situations is key to a successful joint ownership.
Further Information
The best source of information on your specific situation is to see a solicitor. An experienced legal professional will be able to let you know what to expect when buying a home with a sibling, what you will each need to do or provide to make the process run smoothly, and how you can each protect yourself fairly should something go awry. Also, a solicitor will be able walk you through each step of the complex process of purchasing property so you can rest assured you have done everything that needs doing. Visit the Law Society (www.lawsociety.org.uk) for more information on finding a solicitor in your area.
You might also like...