Fighting Fair with a Flatmate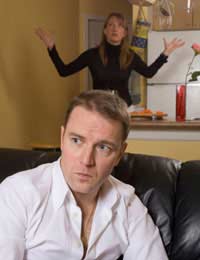 Flatmates fight, it's as simple as that. Whether it's about who ate who's muesli, why rock music was blaring at 3am or who forgot to sort the recycling, fights will erupt simply because living together day after day can create friction that grows into frustration that often festers into outright arguments after that. But fighting shouldn't cause flatmates unnecessary hurt or pain. Instead, flatmates should resolve to fight fair by striving for discussions rather than disagreements, sticking to the topic at hand, keeping their discussions private and enlisting the aid of a neutral third party as needed.
Discussions, Not Disagreements
No one likes to be yelled at, and it certainly doesn't help people to feel respected when they are being berated like a child. To avoid this scenario, flatmates should keep from raising their voices or throwing out accusations when there is something on their mind. Instead, telling their flatmate that they need to speak about last night's party, the new pet or whatever else is bothering them gives both flatmates time to go away and think of what they really want to say. When flatmates do meet to discuss the issue they can then each calmly and rationally explain their thoughts and feelings on the topic without resorting to highly emotional reactions (tears and temper tantrums first on the list).
Sticking to the Topic at Hand
During discussions flatmates must try to stick to the matter at hand. It can be tempting, when airing feelings about a particular issue, to throw in all of the other little problems that have cropped up as well. However by discussing multiple irritations at the same time all that really happens is that the conversation becomes muddled. If a flatmate chose not to discuss a particular incident at the time, then consider that topic closed. It has no place coming up in unrelated discussions and can actually keep flatmates from resolving other issues.
Keeping Discussions Private
Not only should all flatmate discussions be private at the time - that is, not announced or carried out at the local pub - but they should be kept private afterwards as well. Telling other people about what each flatmate said, how the other reacted and what was decided for the future can only lead to speculation. Others will likely end up feeling as though one of the flatmates "won" an argument and this opinion can very easily infiltrate the flatmates' relationship. If only two people were involved in the discussion at the time then only two people need to know the details of how it went and how it ended.
Enlisting the Aid of a Neutral Third Party
If flatmates find that they can not work out a problem on their own then enlisting the aid of a neutral third party might be a good idea. Professional mediators are trained to help people reach an agreement, and while they will require commitments of time and money, they can help people avoid the courts over their disputes. If it is believed that professional help is needed then contacting a solicitor or visiting the UK Mediation Directory (www.interdial.org.uk) will help flatmates determine which services they may need to help fight fair and end their disputes.
You might also like...