Removing a Flatmate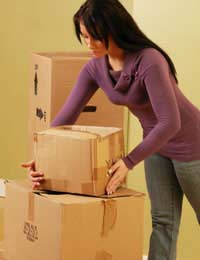 A little bit of hassle is to be expected when sharing accommodation with someone else, but what happens if a little bit of hassle turns into a lot? Say, for example, that a flatmate's suddenly exhibits anti-social behaviours that make you feel physically or sexually threatened? Unfortunately the wheels of removing a flatmate turn slowly, particularly when both flatmate's have the same legal standing and therefore right to live in their home. However, just because change may not occur immediately doesn't mean you should let the matter rest. Report inappropriate behaviours to the police, talk to your landlord and investigate legal advice and possible court orders. At the very least you'll know you're doing all that you can to begin removing a problem flatmate.
Legalities of Living Arrangements
How hard it may be to remove a flatmate will depend in large part upon the legal standing of each flatmate. When flatmate's live together and have each signed a rental agreement then they are known as joint tenants. This means that each flatmate has as much legal right to stay in the property as the other. Though it may be possible to get a court order to remove a joint tenant this will likely carry monetary, time and even emotional costs. If a flatmate's behaviour has become the problem then discussing the tenancy with the landlord may also be an option. However, it can be hard to persuade a landlord to evict one tenant but to grant a new tenancy to the remaining tenant. If each flatmate does not have his or her name on a rental agreement then the arrangement is informal. If this is the case then the individual not named on any document may not have a legal right to stay on the property. However, it may be that the arrangement itself will be called into question if such a flatmate must be removed and if the named tenant is found to be in violation of his or her own agreement then (s)he may be asked to leave as well.
Antisocial Behaviour and Flatmate's
Regardless of the legal standing of a flatmate, if (s)he begins to exhibit antisocial behaviour then the authorities must be notified at once. Just because you share a home does not make you his or her keeper, neither does it mean that you should have to put up with dangerous and/or illegal behaviour. Truly threatening behaviour, such as stealing from others, physically or sexually harassing others, verbally abusing others or engaging in lewd or violent acts should be reported to the police immediately. Whether or not a behaviour order is issued or a crime is investigated and/or prosecuted, the very fact of a police report should help speed along applications to landlords or courts in order to have the offending flatmate removed.
Removing a flatmate is never an enjoyable, or necessarily easy, act. No one likes to see a relationship end, particularly not in an abrupt or angry manner, but sometimes it is for the best that a problem flatmate is made to leave an otherwise happy home – both for his or her sake and yours. Good luck.
You might also like...