Household Chores for Flatmates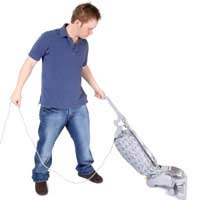 Flatmate's – particularly those who are living outside of their family home for the first time – are often unaccustomed to the number of chores that are required for general household upkeep. While some flatmate's prefer to discuss these chores as they come up, others prefer to make a rota or schedule for who does what and when. Regardless of how you want to organise your chores, the fact remains that they will need to be completed. Continue reading for some hints on which chores must be taken care of, and which you may be able to put off for just a little longer.
Chores and Personal Safety
Some chores can not be put off for fear of endangering your personal safety. Making sure that all windows and doors lock properly, testing the smoke alarm, testing the carbon monoxide detector and making sure that your fire extinguishers are in good working order are all chores that should be done immediately. If there are any faults with any of this equipment then repairs or swaps should be made immediately. You should also make sure that you have working torches, at least one box of matches and several candles on hand in case you lose electricity. Again, if you find you need to make repairs or buy new products then do not hesitate to get this done.
Chores and Personal Health
Like personal safety, your health and wellness may be impacted if you allow chores to go uncompleted for too long. Dusting regularly to ensure proper air quality, vacuuming to remove bits of food and other debris that could attract pests, blasting soap scum and mould in the bathrooms and thoroughly cleaning all dishes and eating utensils are the most basic chores required to ensure optimal health and wellness for all flatmate's. Allowing fresh air into the home will also help to air out your rooms, which may be helpful in the event that a flatmate has had a recent illness. Try to crack your windows every day to allow fresh air to circulate. If you have time, give these windows a good wash to ensure that there is no build up of dirt or pollution on them.
Chores and Personal Appearance
Finally, there are some personal chores that you'll want to remember in order to make sure that you look your best. Doing laundry and ironing are probably the two most routine chores you'll need to complete while you are living with flatmate's, though most flatmate's agree that each person is responsible for his or her own clothing. Other individual chores will likely include shopping for personal care products, keeping your own bedroom in order and shopping for nutritious food and drink. When you become more accustomed to caring for your own life and home these chores will probably begin to feel routine and you won't even need to think too much about them, but until then be sure to consciously plan them several times a week.
Household chores are never fun, but flatmate's can decide how best to split them up so that no one is left with an unequal share of the responsibility. If some chores are going unfinished, however, flatmate's will need to reconvene to discuss how best to get over this problem and who will need to take responsibility for it.
You might also like...