Saving Money on Accommodation Expenses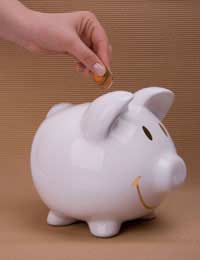 Accommodation expenses can be costly, particularly for first time buyers or renters. Sharing accommodation is certainly one way to save money on accommodation expenses, as are budgeting for monthly expenses, limiting utility connections and keeping all accommodation to a certain standard of cleanliness and maintenance to avoid future emergencies.
Sharing Accommodation
Sharing accommodation is the most obvious method of saving money on accommodation expenses. Obviously bringing in one flatmate will cut expenses in half, while bringing in two flatmates will divide expenses into thirds and so on. Though the rent or mortgage payments are usually the largest expenses owed by flatmates, utility payments will also usually be divided between individuals sharing accommodation. However taking in a flatmate or flatmates should not be done on a whim. Crafting a specific ad stating your requirements, interviewing a variety of potential candidates and discussing house rules with those who are successful should all be logical steps to amicably sharing accommodation.
Budgeting Monthly Expenses
Once it is known how much a flatmate will owe each month in rent or mortgage payments each flatmate can go about budgeting for his or her monthly expenses. Obviously the easiest way to do this is to simply track how much money comes in and how much goes out within a given time frame. Only by tracking all expenses – from a single cup of coffee to large lump sum payments – can an individual see where, when and how his or her money is really spent. Once this is known, the individual can begin to set up goals for each area of his or her spending (rent, utilities, food, socialising, etc.). These goals make up the bones of any monthly budget.
Limiting Utility Connections
With monthly expenses mapped out it usually becomes clear where individuals can cut back to save money. One easy area is in the number or type of utilities that are connected in the home. For example, individuals who pay for mobile phone service may not choose to also pay for a landline. Similarly, individuals who can easily access Internet at school or work may not choose to pay for a home connection. These "luxury" utilities may make a home more comfortable, however if they are not truly needed then many individuals may prefer to save their money or not go into debt because of them.
Cleanliness and Maintenance
It's been said that an ounce of prevention is worth a pound of cure and the monetary equivalent of this is spending a little money now for cleaning and maintaining a home rather than a lot of money later for large emergency repairs. With this in mind, picking up general cleaning supplies and doing weekly cleans as well as spot checks on all appliances, smoke and carbon monoxide detectors and fire extinguishers, will be money well spent. Ensuring that all flatmates pitch in for supplies and agree to clean and maintain the home to a certain standard should help everyone avoid larger cash outlays later.
Saving money on accommodation expenses can be hard, but there are some ways that individuals can cut back on their expenses. Sharing accommodation, budgeting for monthly expenses, limiting utility connections and maintaining certain standards of cleanliness and maintenance are all ways in which individuals can save money related to their accommodation.
You might also like...