Utilities Budget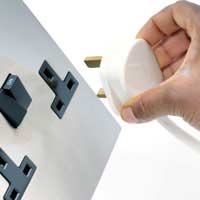 Unless you're looking at a cabin in the woods you'll need to be ready to pay for certain utilities in your home. The nice part of sharing accommodation is that you will not likely need to pay for the entire cost of the utilities yourself so it can feel like instant savings when you're immediately able to have a bill or even split it into thirds or more. Though no one will be able to tell you exactly how much money you'll need to budget every month for your utilities, there are certain things you should keep in mind about this budget.
Responsibilities for Utilities
When more than one adult lives together it can be tricky to decide whose name goes on which utility bill. This is an important decision though, since whoever's name appears on the bill will be the first person held legally responsible for paying any and all charges. It is also important because if this person leaves the home and shuts the account, the remaining flatmates may be charged a new account or connection fee. This could get expensive if flatmates revolve through a home quickly, so renters may want to investigate the possibility of their landlord being named on an account.
Common Utilities
Some lucky renters may have all of their utility payments included in the rent but for everyone else arranging utility accounts and connections will be there responsibility. Common utility connections that may need to be investigated include electricity, gas, water, telephone, Internet and cable television. If these utilities are connected when a renter moves in, (s)he should investigate whose name is on the account and if it needs to be switched. A television licence should also be bought for any new home that does not already have one.
Saving Money on Utilities
With monthly expenses mapped out it usually becomes clear where individuals can cut back to save money. One easy area is in the number or type of utilities that are connected in the home. For example, individuals who pay for mobile phone service may not choose to also pay for a landline. Similarly, individuals who can easily access Internet at school or work may not choose to pay for a home connection. These "luxury" utilities may make a home more comfortable, however if they are not truly needed then many individuals may prefer to save their money or not go into debt because of them.
Utilities and Appliances
Certain appliances such as hot water heaters and radiators run solely on/for utilities like electricity, water and gas. If these appliances break or otherwise require attention it is usually the landlord's responsibility to have them serviced or replaced. The terms and conditions of a rental agreement will likely spell out both the tenant's and landlord's responsibilities regarding appliances.
It can be hard to budget for utility payments, particularly when certain utilities are used more at some times of the year than at others. Though each home's utility payments will differ, thinking about things like which flatmate is responsible for which utilities, common utility connections, how to save money on utility connections and appliances that run with utility connections can help flatmates become better acquainted with their utility needs.
You might also like...