Flatmates and Mediation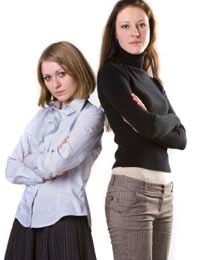 Flatmates can fight over hundreds of different things. Quiet hours, guests, cleanliness and the use of personal possessions are just a few common topics on which flatmates disagree and therefore may argue. For the most part these squabbles either correct themselves or they blow over and are forgotten. But what happens if a disagreement doesn't just disappear? For some flatmates, seeking mediation with a neutral third party may be an option.
Flatmate Disputes
Disputes can arise over anything, especially something that one flatmate thinks is relatively minor but means quite a lot to the other. In most cases these disputes can be solved when everyone involved remains calm. There's no point in screaming at each other - when flatmates are worked up to the point of rage it means that no one is in a position to think rationally or make decisions. By discussing the dispute in private and trying to agree on a course of action for the future flatmates can help to ensure that the same disagreement does not occur over and over again.
Considering Mediation
When flatmates can't move past a dispute themselves it may be time to consider having a third party get involved. Mediators are generally trained facilitators who have no vested interest in the dispute but simply want to assist the parties involved in finding a viable solution. Mediators may be qualified solicitors or they may be professionals who have gone into business on their own. Strictly speaking a mediator may also be someone who is simply an uninvolved third party whether they are specially trained and professionally qualified for the task or not. Mediators should not be thought of as judges or juries, nor should they be expected to hand down any sort of judgement that must be accepted. Instead, mediators should be seen as assistants who want to help both parties move forward from any given dispute.
What to Expect In Mediation
Mediation is similar to any business meeting. Both flatmates will be present and are usually encouraged to discuss the dispute as they see it. Both parties are free to leave the session at any time, and any agreements reached during the sessions are not necessarily legally enforceable unless contracts or other formal documents are signed. Mediation is not a time to lay blame, but rather to work through a compromise that will suit both flatmates. These sessions are always confidential, and flatmates should respect that whatever goes on in a mediation session should not be discussed later on with others. Only if there is a certain degree of trust and respect between everyone involved can mediation truly affect positive changes.
Seeking Mediation
Mediation should probably be held as a last resort in regards to flatmate disputes, both because it may well require both flatmates to spend money and because waiting for an appointment may drag out the dispute. However, if it is believed that professional help is needed then contacting a solicitor or visiting the UK Mediation Directory (www.interdial.org.uk) will help flatmates determine which services they may need to help end their disputes.
You might also like...