House Rules for Flatmates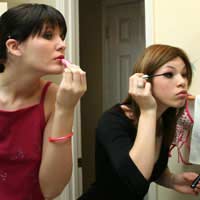 Living with someone means developing a completely different relationship than you would have with them if you were simply their workmate or friend. When you live together, every little thing that each you does has the potential to impact upon - not to mention annoy - the other. Though some disagreements will be impossible to foresee, others can be fairly obvious. To avoid problems in the future, sit down together at the start of your time together and hammer out some house rules. Topics such as food and drink, personal possessions, guests, parties and quiet time are those that can create tension between flatmate's and may be best dealt with in calm, compromising discussion.
Food and Drink
For some flatmate's "borrowing" each other's food and drink is common while others have a strict policy of asking before indulging. Rather than assume it will always be fine to consume food and/or drink that you have not purchased, ask your flatmate what he or she would like to do about this issue. It may be that you'll each want to mark your own items or cordon off specific shelves in the fridge or pantry. Or it may be that you'll want to keep a kitty for communal purchases and each of you take specific nights to cook. Whatever you are both comfortable with is fine, but also remember that guests will likely need to be offered refreshment so you should discuss these potential situations as well.
Personal Possessions
As a general rule of thumb, flatmate's should not expect to be able to use the other's personal possessions without asking. However, it may be that you and your flatmate are both willing to share at all times and if this works for both of you then by all means go ahead. However, if there are items that you prefer a flatmate not touch without your permission (for example, your laptop or a piece of jewellery) then you need to make this clear from the outset.
Guests
Guests can often become a sticky point in an otherwise harmonious relationship between flatmate's. If guests are over too often, make too much noise while they are over or fail to respect personal boundaries then the flatmate feeling inconvenienced will need to discuss this situation. At the start, however, flatmate's can discuss general expectations - particularly regarding overnight or out of town guests - and begin to lay down some house rules that can be fine tuned as needed.
Parties
Flatmate's should never feel as though they can not throw a party in their own home, however it should also never be assumed that any party any time will be just fine with the other flatmate. Common courtesy would hold that flatmate's should check in with each other before hosting a party and be truthful about what is happening. Is it just a dinner party for friends or will there be kegs rolled in to supply the masses? This may influence the other flatmate's opinions and so should be discussed openly and honestly.
Quiet Time
Almost the opposite of a party, quiet time can be just as important to flatmate's with demanding schedules. If it is known that there will be certain times that extra quiet is needed (for example, before a big presentations or while studying for exams) then flatmate's should make this clear. Otherwise a more general agreement that, for example, music should be turned down after 11pm, may suit flatmate's just fine.
There are no hard and fast rules that will suit every set of flatmate's regarding their behaviour and possessions. However, sitting down to agree to a few house rules that make everyone happy may be able to head off disagreements in the future. Good luck!
You might also like...