Decorating on a Budget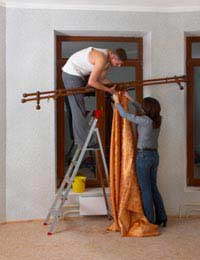 Most adults will have some possessions to their name, so when new flatmates begin to live together it can be hard to determine exactly what other items will be needed to round out the furnishing and decorating of the home. It is therefore highly advisable that any new flatmates move all of their possessions into their new homes and live with them for a short time before beginning to inventory what else they may need. Flatmates should then work out exactly how much of a budget they have to spend on items such as furniture, textiles, ornaments and electronics.
Furniture
Furniture is by far the most practical of the decorations that new flatmates will need to purchase. If they are not already owned then a dining table and chairs, sofa and loveseat, easy chairs and extra chairs for additional guests would be good investments. Furniture that doubles as storage, such as an ottoman that could serve as both a trunk and a coffee table, is also a good idea for small homes. Baskets, trunks, bowls and other decorations that afford storage possibilities may also be worthwhile if space is tight.
Textiles
Textiles may be decorative, but they can also serve practical purposes. Curtains or drapes, throw pillows and floor coverings can all add visual interest to rooms as well as make them more comfortable for its inhabitants. If there is a small budget for these items then second hand or charity shops may have good bargains. Making your own textiles is also another option if you are handy with a needle and thread.
Ornaments
Ornaments are items that are purely decorative and which should be the last things to be purchased if a budget is running tight. Things such as decorative photo frames, clocks, candleholders, vases, small statues and other knick-knacks all act as finishing touches for a room, but they can be accumulated over time and do not need to cost a great deal of money. In fact, most people find that they like to surround themselves with ornaments that hold personal meaning rather than simply ornaments on display at home furnishing stores. Thought this may mean that a room is finished more slowly, it usually makes the overall effect more pleasurable to the inhabitants.
Electronics
Finally, few modern adults will live comfortably without some electronic items in their home. It is likely that each flatmate will have their own personal computers and small electronics, but larger items like television sets, DVD players and game consoles are not often needed in abundance. If one flatmate already has these items (s)he should not necessarily be expected to share. However, if such items are desired for shared purposes then a number of models should be viewed to get a sense of the average cost and then a budget agreed upon for the purchase of these devices.
The exact size of a decorating budget will depend upon what is desired and the funds available to both flatmates. In general furniture, textiles, ornaments and electronics are commonly needed items when flatmates begin to live together. If items are to be purchased, also remember to decide who owns the items and what will happen with them when flatmates stop living together. A little forethought will likely avert arguments later.
You might also like...