Decorating Schemes for Shared Accommodation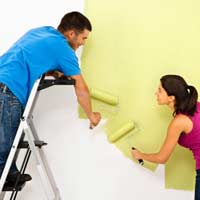 Whether you are living with a perfect stranger, close friend, beloved family member or romantic partner there is no guarantee that your decorating ideas are going to in sync much less complementary. In fact, meshing your belongings and design preferences can be one of the hardest parts of sharing accommodations with someone new. To avoid decorating disaster, discuss your opinions with potential flatmates before you begin to live together and remember that these design schemes should only ever apply to shared living spaces - bedrooms and other private spaces should always be left up to the individual resident.
Colours
Perhaps the most important decisions regarding decorating schemes are those that have to do with colours. Aside from the obvious choices - light colours versus dark colours - patterns and prints should also be considered. The good news is that when it comes to wall colours you can try out anything if you are using paint and then you can simply paint right over any mistakes that you don't like. Wallpaper is harder to fix, though not impossible, but fabric choices must be totally removed if you decide you don't like them. That said, it may be smartest to select and approve your wall colours before deciding on fabrics. Of course, if you are not the homeowner you'll want to check the terms of your rental agreement to make sure that changing wall colours is acceptable.
Fabrics
Once you have your wall colour scheme decided you can begin to think about how to accent it with the fabrics in your rooms. In general these fabrics should work with both the wall colours and the types of furniture that will be in the room. The type of fabric to be used should also be taken into account. For example, velvet fabrics might work better in darker rooms with heavier furniture while cotton fabrics might work better in lighter rooms with lighter furniture. Patterns and prints used on fabrics should also complement the colour schemes chosen.
Wall Hangings
To round out a decorating scheme some wall hangings will probably be needed to add visual interest to a room. For some flatmates these means murals on the wall while to others it means displaying personal artwork. Framed photos, prints and/or mirrors are also commonly hung in shared living spaces, though shelves for displaying ornaments or entire bookshelves can be other options. However, if you are not the homeowner be sure to check with your landlord before nailing anything to a wall.
Floor Coverings
Floor coverings tend to be one of the final finishing touches to a room's design scheme. Often rugs are used to warm up the cool feeling of a room with a hardwood floor, and throw rugs may be used to add interest to blandly carpeted floor or even to cover worn patches or stains in an older floor-to-floor carpet. Inexpensive rugs are available from a variety of home furnishing stores, though to correctly lay full floor-to-floor carpets will likely require expert installation.
Decorating schemes for shared accommodations can be hard to agree upon if flatmates tastes tend to differ. However, with a little compromise and some trial and error it shouldn't be too hard to determine which colours, fabrics, wall hangings and floor coverings make the most of shared spaces.
You might also like...